I would like to dedicate this next blog entry of mine to my Grandmother who passed away 5yrs ago this month, on the 19th. I've been thinking about her a lot these last few days..
I never got to meet her because she lived in Britain. My Father was stationed in Scotland where he had met & married my Mother. He left the service soon after and came back to the states with my Mother. They never were able to come back and visit.
I had received things from my Grandmother when I was little. Things like postcards, books, and a glass doll named Amy from the Little Woman novel. I remember that day clearly. I was around 7-8 years old at the time, and had been told by my Mother that Grandma was sending me a present. It seemed like weeks before I got it. I remember going to the post office with my Mother to get my package. It was the last thing my Grandmother sent me.
Looking back on it now, I wish I could have written a "Thank You" note to her, or at least asked if I could talk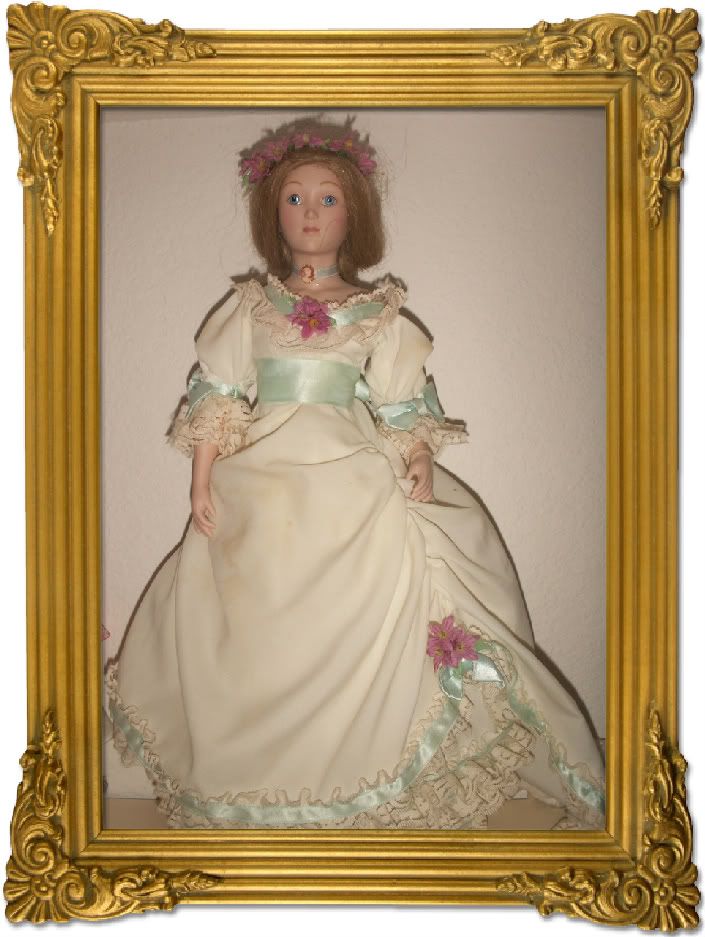 to her over the phone. In her notes to me, she seemed proud that I was her Granddaughter. Looking at them now hurts. It would have been nice to have a relationship with her ..to meet her & chat. I guess when you are that age, you never think of those things till it's too late. I always assumed I would meet her some day..
Out of all the little things she had sent me, I have something from her that is truly special to me. I got my red hair from her! I come from a big family with six kids -Me being the oldest. Out of all of them, including my Mother & Father, I am the only one who has Red hair! So when ever I am asked about my hair, I always reply back that I got it from her. She also wrote poetry, which is something I like to do as well. To me, that is something special. Though I never met my Grandmother, I know she is always there.
In 08, after losing a friend of mine to a sudden death, I have came to realize a lot about what it's like to lose & mourn someone. I never really got to do that before, even when losing a family member. After going through some many tough times, I like to think that when someone dies, even though they are taken away from us, their heart, soul & spirit still lives on. I believe that so deep in my heart ..that my Grandmother ..and all our loves ones ..are watching over us ..maybe she is watching me write this? ..If so, I hope she knows I am thinking of her..
To all the women out there, my Grandmother died from Breast Cancer. - Something that could have been found & treated by getting a Mammogram.
Many women, everyday, are battling this cancer, so please take a moment and click on the "Breast Cancer Site" logo. By you clicking, you help someone out there get a Mammogram! And by doing that, you could save a life!
~Rebecca