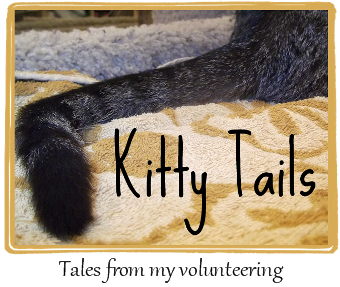 Flower
I got some much needed kitty therapy yesterday while volunteering. I can't think of a better way to spend the day. I enjoy being with our sweet kitties. It was a really nice day. Starting with some great news - our lovely girl, Flower, got adopted on Wednesday along with a cute black kitty named Smiley!
After finishing up with cleaning cages, feeding, and then washing out boxes/scoopers/bowls, etc, I spent some special time with a sweet b/w kitty named Lucky. She had to spend the day in her cage because she was sneezing. Lucky is a very affectionate girl. She rested herself in my arms and started kneeding me. I just know she will make someone a very special companion.
Big Boy (Now named Puma)
Big Boy (now named Puma) got adopted on Monday. His new owners came in and told us that Puma is fitting into his new home nicely! He has the whole house to himself and loves to run about. He's a happy-go-lucky kitty who seems to find fun in just about anything; except wearing his new collar! I was really happy to hear how Puma is doing. His new owners are wonderful and already adore Puma to bits.
We still have Jeff and his brother Mutt (yes, we have a kitty named that) with us. They're four months old and so full of energy. Jeff is more of a lover while Mutt likes to wiggle out of your arms and dash off.
Jeff
We have nine kitties at our Petsmart Adoption Center. Callie has been with us the longest now. She's our Cat of the Week, which means her adoption fees are waived. Then there's our two boys Jeff and Mutt, Flora, Shy Holly (who is making progress), Smeegles, Lucky, Blacky, and Denver.


Blacky
Denver is a handsome orangie kitty. I wish I could have gotten a nice picture of him. He was being grumpy (you can tell in the picture below) and wasn't going to have any of it. Blacky is also really handsome but is still shy with us. Flora, on the other hand, loves the attention! So does Smeegles, but only on her terms.
Denver isn't a happy kitty
Well, I think I've covered everypurr. Volunteering is so rewarding on so many levels. I'm really enjoying this new chapter in my life.
Smeegles
Flora
I was told a few weeks ago about a video that was put together using photos taken by volunteers. I've been searching everywhere for it and couldn't find it, until today. Some of the kitties photos are ones I've taken over the months. The song and pictures really pull on your heartstrings.