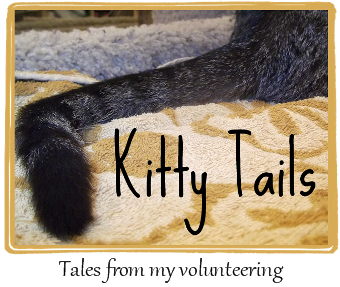 Yesterday was a busy day. I spent 9-5 with the kitties; helping out with the cleaning, feeding, and spending time with each cat. We had six kittens in Room 1, and boy, it sure was hectic! Six kittens, running from one side of the room to the other; jumping and climbing on things. This is what I like to call a real kitten overload. It's so much fun to watch. We had a lot of people stop by just to watch the kittens and their antics.
Sisters Lily and Frenchy
We have fifth-teen cats in total. I should say had. One got adopted yesterday - a little kitten named Lily!
Lily and her sister Frenchy (the black kitten) came to us on Wednesday.
Yesterday a gentlemen came in and asked to see Lily. He said he wanted to surprise his ten year old daughter with a kitten - he had made a deal with his daughter that he would get her a kitten if she made her school grades better, and she did! All I could think about was how happy that little girl would be getting her first kitten. - I love witnessing adoptions like this one!
Blacky, Lucky, and Jeff
I spent some special time with Lucky again. She is such a cuddle-bug. She loves to curl herself up into my arms and knead me. She did something I've never seen any other cat do - she sucks on her own fur while kneading. She did that for close to ten minutes - laying in my arms, kneading me while sucking on her arm.
Brothers Jeff and Mutt are still with us. They seem to be getting bigger each time I see them. They're both very handsome kitties. I'm not sure why anyone isn't taking interest in them. I'm always getting nice photos of Jeff but none of Mutt - Mutt isn't as fond of the camera as his brother Jeff is. I'll get him one of these days.
I did manage to get a few good photos of Blacky. He is a stunning cat. Reminds me of my late friend's cat, Aldo. He's a loving guy, but quiet.
Blacky
is our Cat of the Week which means his adoption fees are waived!
Sisters Jess and Jill
Kittens Jess and Jill came to us on Wednesday, too. They're such cuties! Where-ever there's one, there's the other. They stay close together as you can see in the photo. I hope they get adopted together. There was two women who came in late in the evening asking about Jess and Jill. They seemed really interested in the two kittens - I hope they will be back today to adopt them.
Denver, Pepper, and Marley
We have some new kitties in Room 2, too. There's Denver (who still seems grumpy), Pepper the kitten, Flora, Marley, and of course, Smeegles, who has been with us for a few weeks now.
Marley isn't exactly new to the center. He was with us a few months ago until he got adopted. His owners brought him back saying Marley didn't get along with their other cats. Well, Marley seems to get along just great while with us. I'm wondering if it was actually their other cat who had the problems. Either way, Marley is a handsome guy and very sweet. He will get adopted again in now time!
Pepper is a little sweetheart and knows it. I loved taking photos of her. She has that beauty queen attitude. I think she needs a better name, though. Not sure "Pepper" fits her.
Flora
Flora came from the same home as Denver, and is also related to Blinky. Actually, when I first saw Flora, I thought IT was Blinky. They're all rescues from a hoarder. I don't know the full story, but poor Denver needed some dental work. I think this is why he's acting the way he is. Flora is going in on Monday to have some work done, too.
Callie is still with us and seems more comfortable with her surroundings now. She isn't too crazy about the kittens, but has learnt to tolerate them. We had a few people stop by and say how beautiful Callie is, but all had cats and dogs already. Callie would be better in a home where it's just her. That doesn't mean she can't go into a home with another cat, but she prefers a nice, quiet home. I'm going to print out a few posters and put them up around our center. We need to get this girl adopted. She's been with us since June.
Callie
I hope my readers have enjoyed this week's "Kitty Tails"!
Make sure to visit the link below to see all of our sweet kitties.